How great it is to celebrate Christmas with your friends and family, decorating the pine trees, exchanging gifts, baking pies and making merry. We are indeed, truly blessed. But it is not always the case with everyone. There are still people who struggle to make a decent living, let alone celebrate Christmas.
This Christmas let's look beyond want. Look beyond mindless consumerism and give back to the society. Because real fun lies in celebrating with a cause. We have rounded up the best brands that give back to people and nature. Because, the heart that gives, gathers.
Holidays are also the time when the temperatures hit lowest. What's better than giving warm clothes to people in need? Twice as warm is a winter apparel store and their motto is to spread warmth. With every winter clothing you buy, they donate one to children, families, and shelters in need of warmth and support. The same high quality twice as warm clothing you buy is given away. The next time you think of buying warm clothes, do check out this site. You are sure to feel twice as warm with all the winter clothing and the warm glow giving.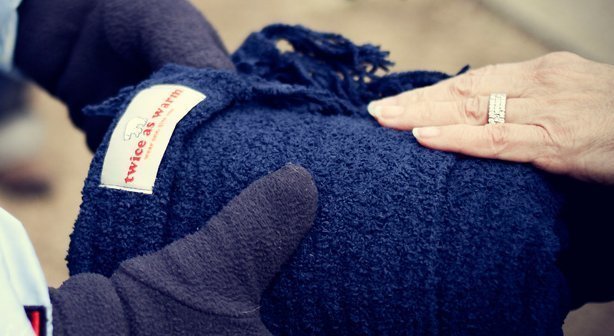 EcoRight is a young startup that makes bags from eco-friendly, biodegradable fabrics like cotton, jute, juton and recycled cotton. But their work goes beyond just making bags. They are working towards making this planet plastic free with their reusable and washable bags.
With your purchase, you not only support their cause of a plastic-free planet but also the community at large. 1% of all the profit goes towards the education and welfare of the workers and their children.
Until now, EcoRight has helped save 20 million plastic bags and aims to reach a billion soon. Celebrate a plastic-free Christmas by saving our planet from the abuse of plastic. They also have some limited edition Christmas print bags to give you the festive vibe. Go ahead and change the way you wrap your gifts. Hand over a piece of environmental conscience to your guests with EcoRight's cotton bags.
Woodchuck USA is an online retail company that makes apparels and accessories out of real wood. For every item you purchase, they plant one tree. Their products include journals, gift boxes, luggage tags, card holders, bottle openers, flasks, and other stationeries, all made of wood.
For every purchase you make, woodchuck plants one tree, making you a part of a community changing the world. Until now woodchuck USA as planted 1.3M trees and plans to reach 10M by 2021. You can also find your tree by entering the code you get when you purchase an item. How satisfying it is to be able to locate a tree planted on behalf of you!
Toms is an apparel and accessories brand that helps one person in need with every purchase. It provides everything from shoes, sight, water to safe birth and bullying prevention services to people in need. They started out with giving shoes to children. Their eyewear purchase provides a person in need with a free check-up by trained medical professionals followed by treatment. On every purchase of their roasting coffee, TOMs provides 140 liters of safe water to a person in need and on every purchase of a bag, facilities are provided for a safe birth.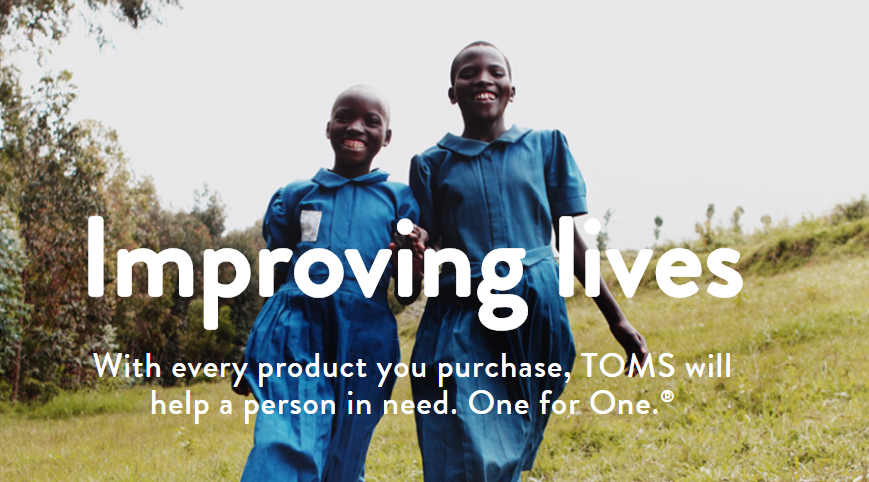 Until now TOMS has given 86 pairs of new shoes to children in need. Under the eye care program, it has helped restore sight to over 600 thousand people in need and Under their safe birth services, they have supported over 2 lac mothers.
Anything you buy, you are giving back to the society in some or the other way with the one for one policy of TOMs.
We are thought is an apparel brand that offers contemporary fashion in sustainable designs made of hemp and ramie. But they don't limit themselves to just creating thoughtful clothing.
The good goes beyond ethical production. We are thought is running a campaign this December called #thoughtfulsteps. With every pair of socks you buy, one pair will be donated to the British Red Cross. They will be sent to the asylum seekers and refugees across London in the Hackney destitution resource center.
As Robert Kennedy says, 'As long as there is plenty, poverty is evil'.
We have plenty. We live in an era of mindless consumerism, buying anything and everything we fancy without thinking about the effect it has on our planet. This Christmas, let's do good. Consume responsibly and give to people in need. Reduce food wastage, stop littering and give. For it is in giving that we receive.
Here's to being the Santa Claus everyone anticipates!