The problem
We have inflicted unbearable damage on our planet and the results of which are clearly noticeable in the form of floods, cyclones, and droughts. India's 6th largest city, Chennai has virtually run out of water and the condition is dire. Blame it on the government, lack of rains in Tamil Nadu or illegal encroachment, Chennai's water reservoirs have shrunk heavily over the past year. 
Tamil Nadu has never been immune to the consequences of climate change with floods and tsunamis having occurred in the past and the water crisis adding to the woes. Water levels in Chennai's four major city reservoirs  Poondi, Cholavaram, Puzhal, and Malayambakkam have dropped to an all-time low.
Lake Chembarambakkam that once overflowed and caused floods in Chennai stands dry as a bone with less than 1 mcft of water. 
The cause 
Satellite images of the city of Chennai clearly show the sorry state of the water-bodies.
Experts blame it on the Government, development activities and weak monsoons.
The failure of the northeast monsoon in 2018 and pre-monsoon showers in 2019 have further exacerbated the situation of Chennai's over-exploited lakes.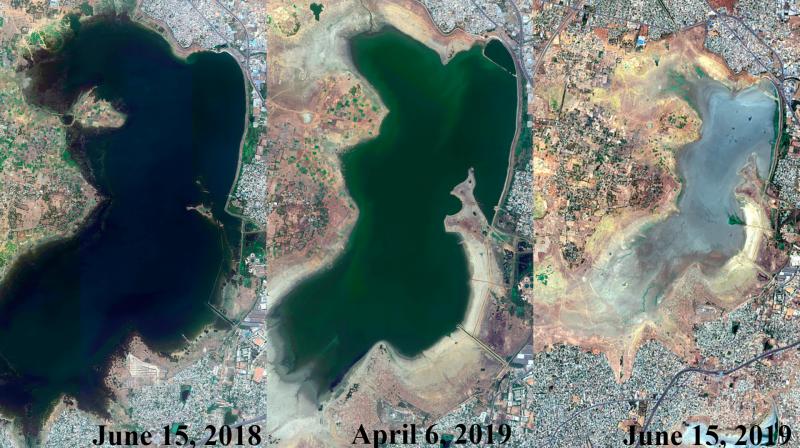 The consequences
Chennai requires 80 crore liters of water daily to support a population of 50 lacs. Currently, it can provide only 52.5 crore liters of water with more than 20 lac people in Chennai struggling for water. Most of the people are surviving on water from water tankers and limited municipal supply. This only meets the drinking requirement. Bathing, laundry, and water for sanitation is still a struggle. Price of bottled water has gone up in the past 2-3 months. Several restaurants have shut business and some offices have asked their employees to work from home. 
According to a recent report by NITI Ayog on groundwater level, 21 Indian cities including Hyderabad, Chennai, Bengaluru, and Delhi will run out of groundwater by 2020. 40% of India's population will have no access to drinking water by 2030.
The situation is distressing, media all over the world is talking about it. Celebs like Leonardo di Caprio is tweeting about the Chennai crisis. 
https://www.instagram.com/p/BzJYT-XF3cK/
Solution
Our ecology is slowly crumbling under the ill-treatment, uncontrolled use of resources, waste generation, and mindless consumption of plastic among other factors. 
The solution? While rain is the only solution possible to replenish the water reservoirs, as responsible individuals we should start saving water, practice rainwater harvesting at home and cultivate healthy habits of closing off the tap when not in use. 
Some people have already started water conservation and harvesting practices. A residential community in Chennai practices rainwater harvesting on their 25,000 square foot terrace. This year, the 56 families who live here collected 30,000 liters of rainwater in an hour. 
While residents in Chennai are doing their bit, it is time we realize before we face a dire crisis like this.